2018 LEAF METAL DRAFT FOOTBALL FACTORY SEALED HOBBY BOX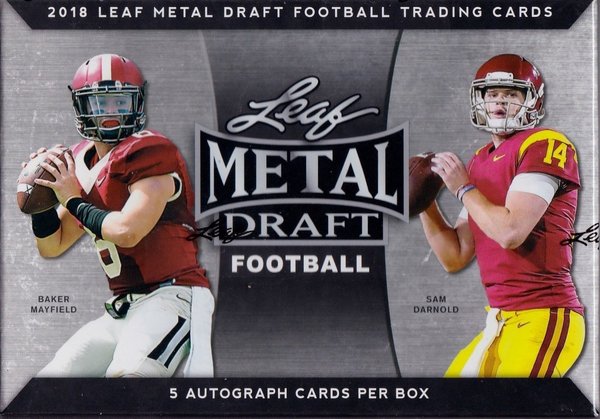 2018 LEAF METAL DRAFT FOOTBALL FACTORY SEALED HOBBY BOX
2018 LEAF METAL DRAFT FOOTBALL FACTORY SEALED HOBBY BOX
Please check with us if sold out. We may have more available from a cancelled order.
LEAF ANNOUNCEMENT:
BOX BREAK: 5 ON CARD AUTOGRAPHS PER BOX. CONFIGURATION: 1 PACK PER BOX. 5 CARDS PER BOX
.

THIS RELEASE IS ON-CARD! NO OTHER RELEASE IN THE HOBBY DELIVERS ON-CARD THIS EARLY! LEAF CONTINUES TO BRING AN INCREDIBLE PLAYER SELECTION WITH AN EMPHASIS ON OFFENSIVE SKILL POSITION PLAYERS! THE 2018 NFL DRAFT IS LIKELY THE SINGLE MOST COMPELLING DRAFT IN THE LAST 10 YEARS OR MORE! THE QUALITY ROOKIE SELECTION IS SO DEEP FOR 2018. LEAF HAS ADDED A BRAND NEW COLOR PRISMATIC AUTOGRAPH AND IS ADDING COLORED WAVE AUTOGRAPHS IN 2018. THE COLORED WAVES AND NEW COLOR PRISMATIC WILL RESULT IN THE MOST COLOR EVER IN THIS PRODUCT.!